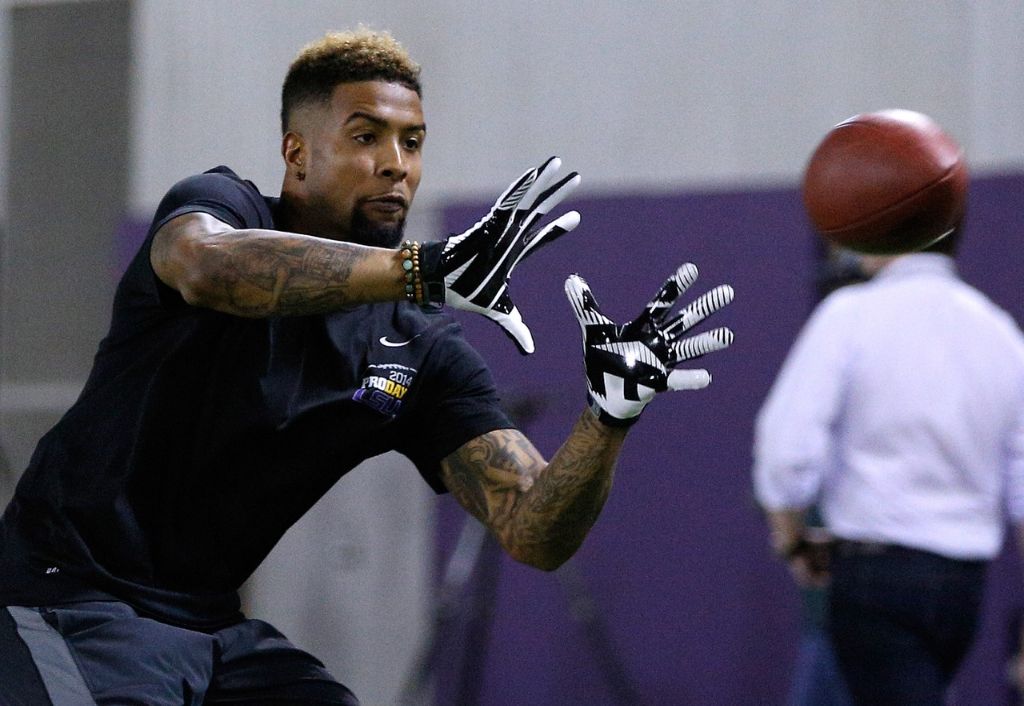 News /
08.10.2014
Odell Beckham Jr.: Chip Kelly says Eagles were 'very high' on him
EAST RUTHERFORD -- The Eagles were on the search for a wide receiver in the draft. They selected Jordan Matthews in the second round out of Vanderbilt, and the rookie is already producing in coach Chip Kelly's offense.

But Matthews wasn't the only receiver on the Eagles' radar. Kelly revealed Wednesday in a conference call with New York media that Giants wide receiver Odell Beckham Jr. was someone the Eagles targeted on their draft board.

"He's athletic, he can get in and out of cuts, he's very sudden, he has outstanding hands," Kelly said were Beckham best qualities. "He shows it not only as a receiver but as a returner. He showed in college he can make tough catches.

"We were real high on him. He never got to where we were but we were very high on him coming out."

Beckham went off the board when the Giants made him the 12th-overall selection. The Eagles didn't wind up making their pick, and traded back to grab outside linebacker Marcus Smith with the 26th selection. Smith has made little impact so far in his rookie season.
Beckham returned from a hamstring injury Sunday and caught four passes for 44 yards and a touchdown in his NFL debut. He could have done even more damage too.

The 5-11, 198 pound LSU product doesn't necessarily have the size that Kelly covets in wide receivers, which became noticeable after releasing DeSean Jackson in the spring and drafting Matthews (6-3, 212 pounds). Matthews has been the Eagles' slot receiver this year.

However, Beckham plays more physical than you would expect from a player of his size and, according to Kelly, has the requisite skill-set that would have made him a great fit with the Eagles.

"He's obviously very talented and was a high draft pick," Kelly said. "He got his first start last week. Everybody looked at him coming out. He was one of the top receivers in the draft and you add him to a Victor Cruz and Rueben Randle and he's just another weapon you have to worry about."

Kelly may not have had the opportunity to select Beckham, but he'll have a front row seat Sunday night when the division rivals meet at Lincoln Financial Field. In all likelihood, he'll have plenty of chances to see Beckham's career develop while playing for the rival Eagles for many years to come.
Source:
By Matt Lambardo | ny.com/giants | October 8, 2014
http://www.nj.com/giants/index.ssf/2014/10/eagles_head_coach_chip_kelly_we_were_very_high_on_odell_beckham.html