D.J. Swearinger wasn't going to forget the Gamecocks and his home-state ties after he stopped playing for the South Carolina football program.
Swearinger still follows the program closely and is bringing his celebrity charity basketball game back to Columbia this week. The game is 6 p.m. Saturday at the Carolina Volleyball Center at the University of South Carolina.
The game will help raise money for The Boys & Girls Club of the Midlands.
"When we were playing at USC, we wondered why NFL guys and some others wouldn't come around and we always said we would change that," Swearinger said. "We want to help change the culture, give back and come interact with the players. I think it is very important to continue to be part of the program."
This will be the first time the game will be played in conjunction with the Gamecocks' spring game, which is set for noon Saturday at Williams-Brice Stadium. Last year's game was held at Benedict College in the summer. Swearinger and USC coach Will Muschamp talked about moving the basketball game up to be on same weekend of the spring football game.
Some of the players in the celebrity event will be introduced during halftime of the spring game.
The basketball game will match former Gamecocks against current NFL or former players. Among the former USC players in the game will be Los Angeles Chargers' Melvin Ingram, Baltimore Ravens' Hayden Hurst, New England Patriots' Stephen Gilmore, Chicago Bears' Mike Davis, Indianapolis Colts' Skai Moore and Arizona Cardinals' Pharoh Cooper.
"We wanted to link up with the spring game and we are hoping for a great turnout," Swearinger said. "Coach Muschamp has done a great job promoting the game and we hope we can get recruits to come to the game and make it a great event and make it as big as the spring game."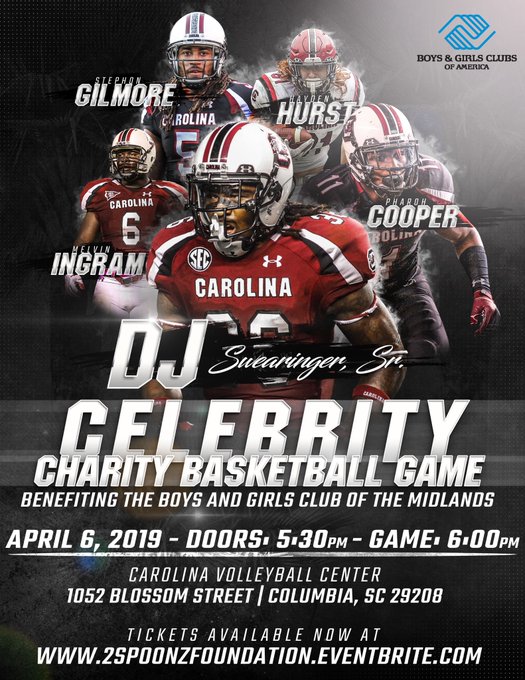 Will Muschamp✔@CoachWMuschamp

I did not forget- I hope u do not either- April 6th Spring Game at Noon- Gamecock Celebrity Basketball at 6!!!!#SpursUp!

117

8:48 AM - Apr 1, 2019
Swearinger has been a big fan of Muschamp and what he has brought to the USC program.
"We like where it is headed," Swearinger said. "Coach Muschamp always invites us back and we definitely appreciate it. We are looking forward to a great weekend."
Swearinger is entering his seventh NFL season and signed with Arizona Cardinals in December, a day after being released by the Washington Redskins. He played with Arizona from 2015-16 and had 66 tackles and three interceptions with the Cardinals in 2016.
The Cardinals brought in Texas Tech's Kliff Kingsbury as its new coach and he made news last month when he said he will give players cell phone breaks after 20 or 30 minutes during meetings.
"We will see how it goes. We are pros and we know how to handle our business," Swearinger said of the phone breaks. "I am looking forward to being back in Arizona and working with coach Kingsbury. Love how a young coach can relate to players. He is a fiery and we can going to have fun and turn things around."
DJ SWEARINGER CELEBRITY BASKETBALL GAME
When: Saturday. Doors open at 5:30 p.m. Game begins at 6 p.m.
Where: Carolina Volleyball Center, 1051 Blossom St., Columbia, SC 29208
Tickets: $15 in advance at eventbrite.com | $20 at the door. Students with a valid student ID $5
Source: The State | Lou Bezjak